Remember this post, where I said I would try to post every Sunday? Well, it's Sunday, my review of Hidden Figures is done but not translated or perfected and I only have half finished posts in my drafts and no motivation to finish them. So I'm going t
o go through my Goodreads TBR and show you some of my anticipated releases. Hope you're as excited about these books as I am!
The Love Interest by Cale Dietrich
"There is a secret organization that cultivates teenage spies. The agents are called Love Interests because getting close to people destined for great power means getting valuable secrets.
Caden is a Nice: The boy next door, sculpted to physical perfection. Dylan is a Bad: The brooding, dark-souled guy, and dangerously handsome. The girl they are competing for is important to the organization, and each boy will pursue her. Will she choose a Nice or the Bad?
Both Caden and Dylan are living in the outside world for the first time. They are well-trained and at the top of their games. They have to be – whoever the girl doesn't choose will die.
What the boys don't expect are feelings that are outside of their training. Feelings that could kill them both."
Spies with a triangle drama that no one wanted and the boys fall for each other instead of the girl??? Sign me tf up. Release date: May 16th 2017
All The Crooked Saints by Maggie Stiefvater
"Saints. Miracles. Family. Romance. Death. Redemption."
That's it. That's the current GR synopsis. Nevertheless, I am extremely excited for this book as Steifvater is my favorite author. Release date: October 10th 2017
Wonderwoman by Leigh Bardugo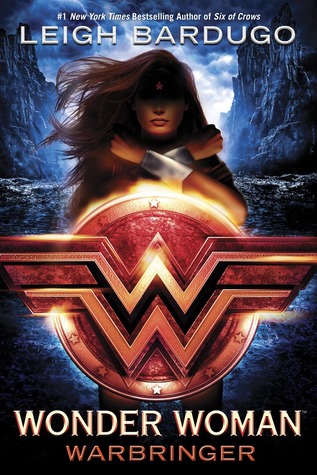 "Diana longs to prove herself to her legendary warrior sisters. But when the opportunity finally comes, she throws away her chance at glory and breaks Amazon law—risking exile—to save a mere mortal. Even worse, Alia Keralis is no ordinary girl and with this single brave act, Diana may have doomed the world.

Alia just wanted to escape her overprotective brother with a semester at sea. She doesn't know she is being hunted. When a bomb detonates aboard her ship, Alia is rescued by a mysterious girl of extraordinary strength and forced to confront a horrible truth: Alia is a Warbringer—a direct descendant of the infamous Helen of Troy, fated to bring about an age of bloodshed and misery.
Together, Diana and Alia will face an army of enemies—mortal and divine—determined to either destroy or possess the Warbringer. If they have any hope of saving both their worlds, they will have to stand side by side against the tide of war."
I haven't even read the synopsis for this one, but I love Leigh Bardugo and I love superheroes so I am certain I'll love Wonderwoman. Release date: August 29th 2017
What books are you waiting for? Tell me below, maybe we can discover some new titles?
Thanks for reading!